Lexical Computing Ltd offers LCA members access to the Sketch Engine to upload, store, analyze and share their learner corpora upon receipt of proof of LCA membership payment. For more info, see here.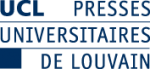 Presses Universitaires de Louvain offers a 20% discount for a period of three weeks after the publication date on new books published in the Corpora and Language in Use series.

Johns Benjamins Publishing Company offers a 20% discount of the subscription rate for individual subscribers to the International Journal of Learner Corpus Research.